24 37 19 N, 100 26 55 E
Manwan Dam, Mekong River, Yunnan
Capacity 1,750 MW, wall-height 132m

24 42 18 N, 100 05 27 E
Xiaowan Dam, Mekong River, Yunnan
Capacity 4,200 MW, wall-height: 292m

Jinghong Dam, Mekong River, Yunnan
wall height 110m

Lijiaxia Dam, Yellow River, Qinghai: wall height 155m

Longyangxia Dam, Yellow River, Qinghai: wall height 178m

Zhiganglaka, Yellow River, Qinghai

26 48 31 N, 100 26 46 E
Jinganqiao Dam (under construction)
Yangtse River, Yunnan
Capacity 465 MW, wall-height 156m



35 52.5528 N, 102 13.5419 E


Gongboxia Dam, Yellow River: wall height 135m

32 31.0476 N, 105 36.3752 E
Baozhusi Dam, Bailong River, Sichuan: wall height 132m

29 58 07 N, 91 52 43 E
Zhikong Hydropower Project
Lhasa River (Kyi Chu), Central Tibet
Capacity 100 MW, wall-height 47m

Yamdrok Tso Powerstation Water Outlet on Yarlung Tsangpo, Central Tibet

Ngari Dam, Indus River, West Tibet
Big Dams, Big Tunnels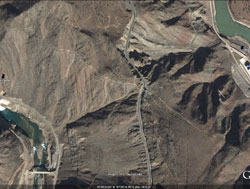 30 48 21 N, 97 19 58 E
Jinhe Dam, Chamdo Prefecture
Altitude: 3250 metres
Jinhe Dam is on Jinhe (Gold) River, a tributary of the Mekong. Dam capacity is 60MW. It is connected by a tunnel over a kilometre long to Jinhe HPP power station, on the Mekong. The tunnelling is not visible on Google Earth, but it is certainly there. This is a favoured configuration for Chinese dam-building at a V-bend of a river. China's tunnel engineering is probably the world's most sophisticated.