What China thinks, what China says—and what China does—may be entirely different matters, even poles apart. To confound foreign critics, Chinese spin doctors frequently indulge in rhetoric that verges on meaningless eco-babble. Here are a few howlers from the highlands of Tibet: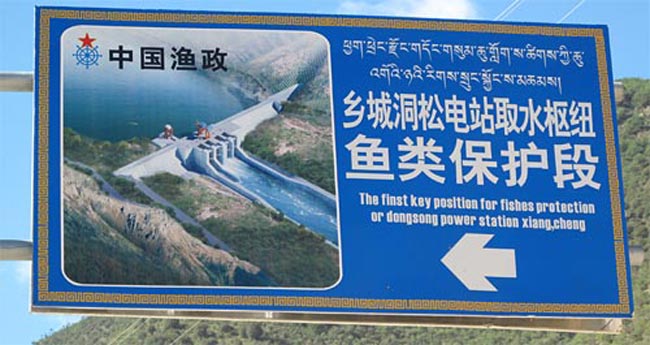 FISH PROTECTION
This sign appears to indicate that a dam under construction on the Tibetan plateau will be a refuge for fish. More likely a nightmare for fish—as they will no longer have the run of the river.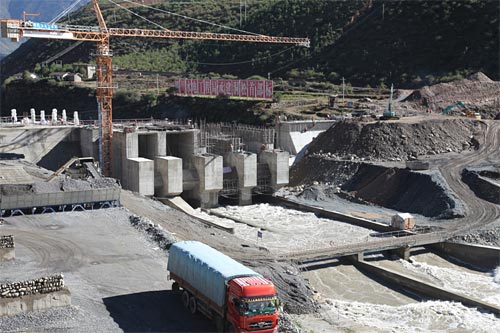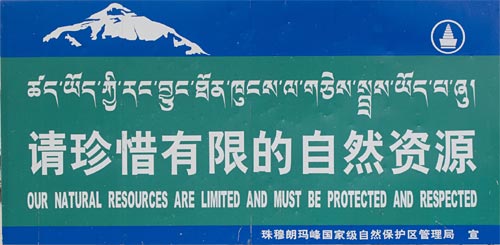 PROTECTING THE ENVIRONMENT
These signs from central Tibet both convey the same message—that respect for the environment and protection of the environment are the responsibility of all. That message is rather hypocritical when you consider that the same Chinese overseers of Tibet who put up these signs are responsible for the wholesale slaughter of Tibet's wildlife. Back in the 1940s, under the rule of the Dalai Lama, vast herds of kiang (Tibetan wild asses), wild yaks, antelope, and blue sheep roamed the highlands of Tibet—in a setting that rivalled the savannas of Africa. Tibet's wildlife was decimated by Chinese soldiers with machine-guns in the 1960s and 1970s, shooting the wild animals for food or sport. Meat was exported to China in large quantities.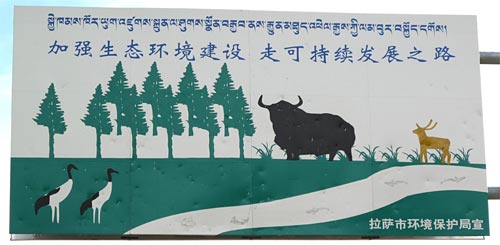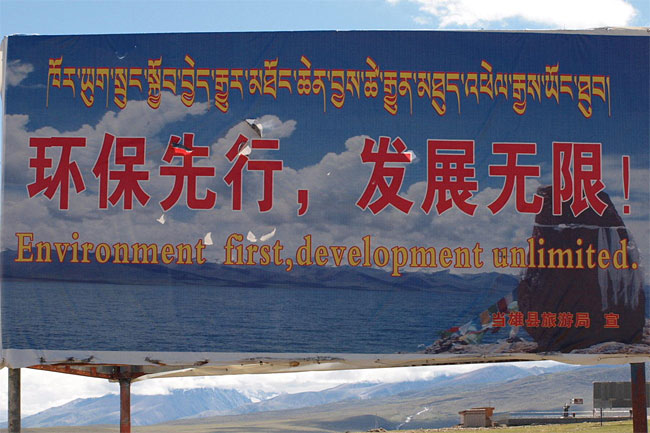 lake protection
You don't have to tell a Tibetan to protect this lake. Shown on this billboard is Lake Namtso—one of the most sacred lakes in all Tibet. However, protecting the lake from the rush of Chinese tourism could be entirely another matter. That's where the 'Development Unlimited' part may come into play: the lake is a popular target for droves of Chinese tourists, who show little respect for the sacred nature of the lake, and litter the landscape with empty noodle packets, discarded plastic water bottles, and empty oxygen bottles. In the event that these tourists have never seen clean water before, there is a sign that informs them to be careful of this phenomenon.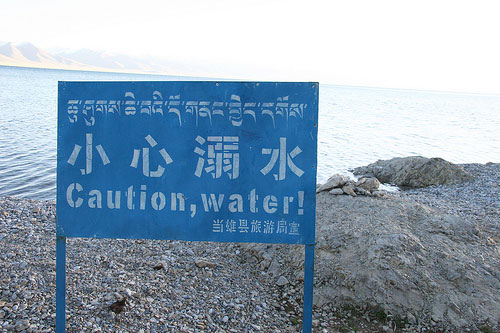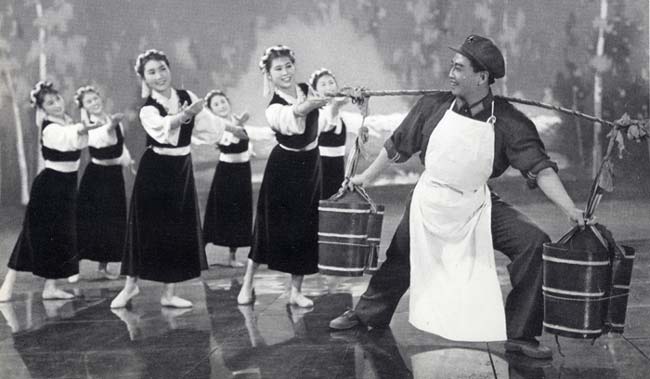 Helping Tibetans
For over 60 years, Communist propaganda has published photos of laughing singing Tibetans, deliriously happy to be 'liberated' and living in an earthly communist paradise. All their needs—material needs, medical needs, education—are provided for by the benevolent CCP. The propaganda also harps on about how harmoniously the two races—the Tibetans and the Han—live together. This vision shows up on Chinese TV, in posters, and other state-run media. And even in revolutionary ballet—as in the picture above, from an old ballet sequence where a People's Liberation Army officer puts on an apron and does a delicate balancing act while prancing around the stage with buckets of water—intended to help young Tibetan maidens with their chores.
Below is a more elaborate version of this theme, with Xi Jinping's wife Peng Liyuan performing (in her younger days):
Below is a poster showing a Chinese surveyor on the high grasslands being assisted by laughing Tibetan nomads. But what is he surveying for? For the site of a new factory? For a mining site? To build a new mega-dam? Are Chinese helping Tibetans? Or are they helping themselves to Tibet's valuable resources?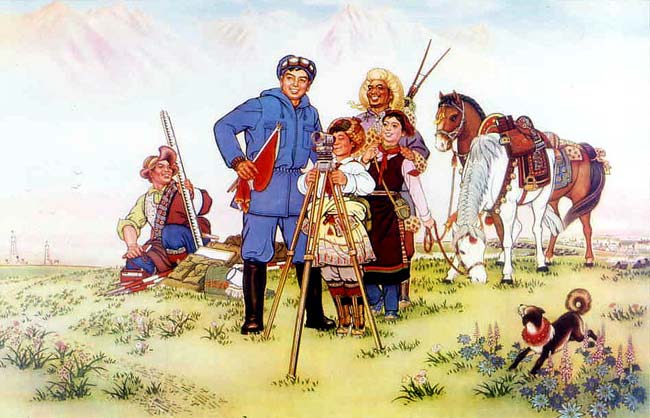 PROTECTING THE GRASSLANDS
National parks? Or sites pegged out for mining and dam construction? Greenwashing knows no bounds in the PRC...
The ultimate 'greenwashing' by the CCP (Chinese Communist Party) is its designation of certain regions as 'national protection areas'. Nomads are bluntly told they must leave such a designated area because it is a national park and thus must remain uninhabited to protect it. There appears to be a much more sinister agenda behind the creation of these protected areas. In a number of cases, after the nomads have been forcibly moved out, mining companies and hydropower engineering consortiums have moved in.
A case in point here is Sanjiangyuan National Nature Reserve in Amdo (Qinghai). Sanjiangyuan means 'Three Headwaters' in Chinese, and refers to the very important headwaters region of the Mekong, Yangtse and Yellow rivers in Amdo. Some context here: looming in the background is a lunatic plan to divert the headwaters of the Yangtse river uphill to the Yellow river through a series of tunnels. This plan embraces three mega-dams—with wall heights of 175 metres, 302 metres and 296 metres—linked to a series of tunnels totalling hundreds of kilometres in length.
This harebrained plan could well cause extensive environmental destruction. Given this context, it is somewhat suspicious that CCP authorities would announce a massive eco-conservation project called the Sanjiangyuan National Nature Reserve in 2000. A larger effort got under way in 2005: this nature reserve covers some 153,000 square km, which is about the size of England and Wales combined. Usually, the first thing done when announcing a national park of this huge size is to issue a map showing its boundaries. Not Sanjiangyuan. A map gazetting the region did not appear in any official source until early 2009. That's because the whole exercise appears designed to bamboozle not only Tibetan nomads, but also watchful foreign outsiders. The official map of Sanjiangyuan that finally surfaced is a chaotic jumble of zones, with 'buffer zones' permitting 'development'. What this refers to is options for mining and for building of hydropower stations. When Canadian mining company Inter-Citic was permitted to start up operations in one such buffer zone, the company alluded to the region as being 'uninhabited'. What they failed to mention is that all the nomads of this region were forcibly shifted off the same grasslands to make way for mining exploitation. This is being done under the cloak of conservation.
One official Chinese website shows a bevy of small dams under use within the region of Sanjiangyuan: one picture bears this curious tagline: 'Benefiting from the ecological protection, this year Sanjiangyuan area in Yushu Tibetan Autonomous Prefecture of Qinghai Province provides enough water to indicate that hydropower stations are in good process.'
It's anybody's guess what that phrasing actually means, but it certainly doesn't sound like conservation.
Map of Three Headwaters (Sanjiangyuan) National Nature Reserve: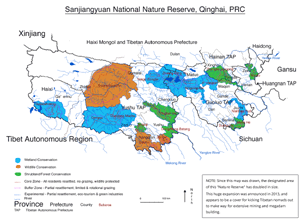 (click to enlarge)