No river is more closely identified with Tibet's long history and culture than the Yarlung Tsangpo, which runs through the heartland of Tibet from west to east. It is often referred to in its short form, the Tsangpo, and is also known as: Yarlung Zangbo Jiang (Chinese); Brahmaputra (Indian—but referring to the river within India); and Jamuna (Bangladesh).

Huaneng Corporation is the owner/operator of Zangmu Dam
Large Dams
China has been secretive about plans to dam the Tsangpo, one of Asia's last wild rivers. Then it was announced that a five-dam cascade would be initiated to the east of Lhasa. The largest of these dams, Zangmu Dam on the mid-reaches of the Tsangpo, started generating power in November 2014, with its first stage coming online. Located in a gorge 140km southeast of Lhasa, at an altitude of 3,260 metres, Zangmu Dam is slated to generate 540MW of electricity. Its height is 116 metres and length 390 metres. Zangmu is the first dam in a series of five planned for the same region, in Shannan Prefecture (Lhoka). The five dams are Zangmu, Gyatsa, Zhongda, Jiexu and Langzhen. Construction is under way on 360MW Gyatsa (Jiacha) Dam and on 510MW Jiexu Dam.
And why are so many dams under way in this region? To power nearby mining operations. There is a copper-gold-silver seam that runs across Tibet, paralleling the Tsangpo. Double trouble: pollution of heavy metals from mining operations could easily find its way back into the Tsangpo, with dire consequences downstream.
China blithely assured India and Bangladesh that these dams would have little or no impact downstream. But this five-dam cascade appears to be just the start of things: up and coming are three more mega-dams, now in advanced planning stages. Close to Zangmu is Dagu Dam, at 640MW capacity. Also on the drawing board for the Tsangpo is Bayu Dam at 710MW. And above the Great Bend, on a tributary known as the Yiwong River is Zhongyu Dam, which eclipses all these dams at 800MW capacity. If plans continue like this, then it is curtains for the Tsangpo as a freeflowing river.
Water Diversion
Chinese engineers are developing a reservoir on a tributary of the Yarlung Tsangpo near Shigatse that will store up to 295 million cubic metres of water. This is intended to irrigate about 30,000 hectares of farmland. Called the Lalho Project, this involves building two hydropower stations with a combined generation of 42MW. China claims the new reservoir capacity is a tiny fraction of the average annual run-off of the Brahmaputra, and will thus not affect India and Bangladesh downstream. However, Chinese statistics are notoriously skewed, so who knows how much water will be impounded at the new reservoir? Besides which, 295 million cubic metres sounds like a heck of a lot of water being diverted already.
THE GREAT BEND OF THE TSANGPO
Rising near sacred Mount Kailash in far-west Tibet, the Yarlung Tsangpo runs 2,900 km all the way across Tibet, and performs a neat trick in eastern Tibet—it makes an abrupt hairpin turn and flows west into India, then south again to its mouth in Bangladesh. This abrupt turn has been christened the Great Bend of the Tsangpo.
On its journey to the eastern side of Tibet, the Tsangpo soars into a 4,900-metre cleft between two towering snowcaps—Namche Barwa (elevation 7756m) and Gyala Pelri (7294m). In a distance of around 240km, the Tsangpo plummets some 2,700 metres through what is now known as the Yarlung Tsangpo Grand Canyon, the world's deepest gorge. With a depth reaching over 5,300m near the Tibet-India border, this gorge is more than twice the depth of Colorado's Grand Canyon.
Geographers had long speculated with such a precipitous drop, there had to be some huge waterfalls within the gorge, but because of its steep, forbidding walls, the site was impossible to get to. British explorer Frank Kingdon-Ward, undertaking a harrowing 11-month botanical expedition, discovered a waterfall of 12 metres in 1924. But it was not until 1998 that explorers Ian Baker and Ken Storm managed to break through to the most remote part of the gorge to discover a magnificent waterfall over 30 metres in height—the largest yet discovered in the Himalayas.
Although barely explored, the Great Bend is not seen as fantastic natural splendour by China's officials. China's engineers look upon the Tsangpo Gorges as the greatest potential for hydropower ever. In a plan first announced in 1996, Chinese engineers proposed building a monster dam here with potentially 38,000MW output. That output would be DOUBLE the output what is currently the biggest dam in the world, the Three Gorges Dam (output of around 18,000MW) on the mid-reaches of the Yangtse.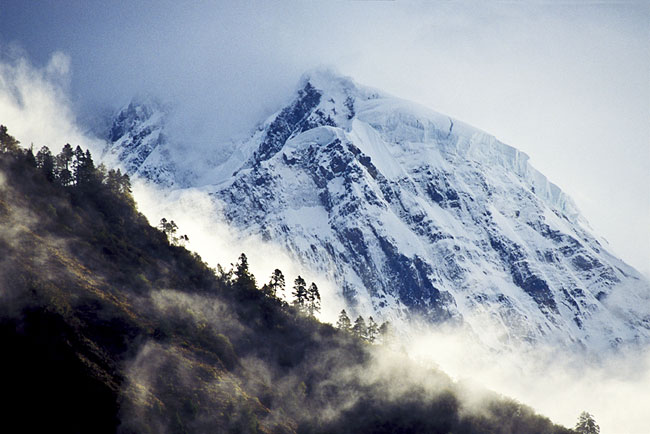 upper Tsangpo Gorge
© Pat Morrow