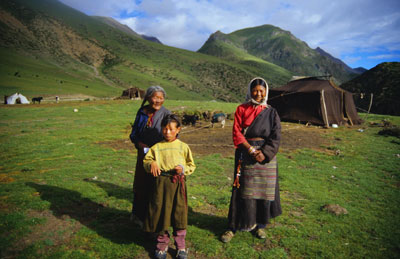 Nomads, Yaks & Grasslands
What threats are there to the grassland eco-system of the Tibetan plateau?
Why are Tibetan nomads and their yaks being blamed for deteriorating grassland quality?
What is the connection between nomads and yaks? And between yaks and the grasslands?
What is the official Chinese policy on Tibetan nomads?
Are Tibetan nomads happy with the current situation?
Do the nomads have any say in policy concerning the land and the environment?
What is the Chinese spin on newly created nature reserves and protected areas of the Tibetan plateau? *
* for more on this, see Sanjiangyuan Nature Reserve
see documentary about Tibetan nomads:
SNUFFING OUT THE NOMADS
Imagine that your hometown has been invaded by a military force that dictates all the resources—the water, the mining, all the natural resources—will be diverted for the exclusive use of the occupying power, and the military. Key resources will be exported back to far-away cities. Rare resources like uranium and lithium. And everything will be conducted in a language you don't understand—the language of the invaders.
Sounds like fiction? It is happening today in Tibet. But not only are Tibet's resources being shifted out, the Tibetan way of life is being snuffed out. Tibetan nomads, who for centuries have been at the heart of the traditional Tibetan economy through herding of yaks and cashmere goats, are being targeted for 're-settlement'. Across the Tibetan plateau, hundreds of thousands of nomads are being shifted off their traditional grassland habitat. 'Re-settlement' is little more than a euphemism for cultural genocide—for snuffing out Tibetan nomad culture.
Slaughter of the Yaks
The following information is taken from a Human Rights Watch report, June 2007: No One Has the Liberty to Refuse: resettlement of Tibetan nomads. Based on this report, it would appear that Chinese authorities are deliberately targeting slaughter of yaks as a key method of depriving nomads of a sustainable living on the grasslands, since nomads are totally dependent on yaks for survival.
Most of those herders to whom Human Rights Watch spoke reported that the new policies stipulate a limit of five livestock per household member and require the rest of the livestock to be slaughtered or allowed to die. This compares with a usual holding in the region of anything up to a hundred or more yaks, sheep, and goats per household member. Other interviewees noted that they were allowed to keep 30 percent of their herds. One 29 year-old man, K.Y., explained: "The government sets a limit of cattle numbers per household member and if you exceed that limit, you have to kill off the extra.... The village leader comes to check, and there is no way that you could hide from him..."
TIBETAN LAND SEIZED FOR CHINESE MIGRANTS
Chinese authorities forcibly take over land from five Tibetan nomadic villages in Qinghai province to make way for new dam projects
source: Radio Free Asia, May 1, 2012
Chinese authorities have forcibly grabbed land from five Tibetan nomadic villages in Qinghai province expected to be given to tens of thousands of new Chinese migrants, according to Tibetan residents. The new wave of migration would also result in the growth of a Chinese town fueled by construction of two hydro electricity projects, they said.
"On April 25, Chinese government officials convened a meeting of five nomadic villages in Gepasumbo (Tongde) county in Tsolho (Hainan) prefecture in Qinghai," according to a Tibetan in the Tibet Autonomous Region (TAR). "As a result of the meeting, the Tibetan residents of Setong, Dragmar, Seru, Machu and Goekar villages were forced to give up 60 per cent of their land and get rid of 54 percent of their animals within this year," the Tibetan said. The officials said animals will not be allowed to loiter on the land taken over by the government. The villagers were advised to reduce the number of animals by selling them to slaughter houses.
"During the meeting, the Tibetans from the five different villages unanimously refused to accept the Chinese proposal to take over their land," a Tibetan from Gepasumbo county said.
"The government officials returned to the county center later and 'forced' the Tibetan residents of the Setong, Dragmar and Seru villages to surrender all their land," the Tibetan said. "The Tibetan land taken by the Chinese authorities...is meant [to cater to] over 30,000 Chinese migrants. This, according to the local sources, could lead to the growth of a new Chinese town," a Tibetan from the area said. The authorities are also constructing two more hydro electric projects in the area which are expected to attract 100,000 Chinese migrants, the Tibetan from TAR said.
China's policy to relocate hundreds of thousands of Tibetan nomads from their ancestral grasslands into colonies of permanent urban dwellings is gathering pace and is being implemented especially vigorously in certain areas of Tibet, according to a report on the website of London-based Free Tibet, an advocacy group. "The policy is having a disastrous impact on Tibetan herders' ability to maintain their traditional livelihoods and on a distinctive form of Tibetan cultural identity," it said.
—Reported by Kunsang Tenzin for RFA's Tibetan service.