Calling all Water Warriors!
The filmmaker is amenable to indie screenings of this film by activist, educational or non-profit groups. Contact via email with details of your website, and data about potential screening (audience size, projection format details, possible dates).
At this time, we do not have DVDs for sale for private use. Currently, we offer the film on hand-stamped DVDs and Blu-ray disks for indie screenings and for evaluation purposes only. If you would like to plan a public screening within your community or for a special group, or to show the film at a college or high school, or purchase a library copy, please contact:
himmies757 (at) gmail.com
PowerPoint Presentations
With prior agreement with the filmmaker on usage parameters, presenters at conferences or at special gatherings have included maps and other visuals from the Meltdown website in PowerPoint or Keynote presentations. Presenters may prefer to screen the 12-minute version of Meltdown in Tibet to stay within an allotted timeframe.
Educational Uses
Meltdown in Tibet has been screened at campuses in North America, Europe and India. This has been arranged either through student impetus (special presentation with Q&A), or through presentation by the instructor (particularly in the field of geography). The documentary has also been screened for high-school students (age 14+) and at museums and public libraries.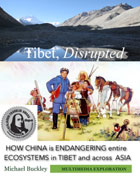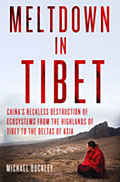 Study Guides
The Meltdown in Tibet website contains over 55 questions to stimulate discussion, as well as an array of maps and background material related to water issues.
Michael Buckley's book Meltdown in Tibet covers a range of environmental problems in Tibet. The book is published by Palgrave-Macmillan, New York.
More updated resources at: www.facebook.com/MeltdowninTibet
Disks for Indie Screenings
Disks for Indie screenings are available in the following formats:
Standard Definition DVD is available in both NTSC and PAL versions, with 40-minute and 12-minute versions on the same disk. The standard definition is highly compressed—it will look better if played on a Blu-ray deck or HD deck.
Blu-ray disk in either 40-minute and 12-minute version can play back on a Blu-ray deck or from a PC laptop Blu-ray player. Either device can be linked to a much larger screen, giving high-definition resolution. Or run the disk through a Blu-ray projector.
contact Michael Buckley: himmies757 (at) gmail.com
meltdown hits the small screen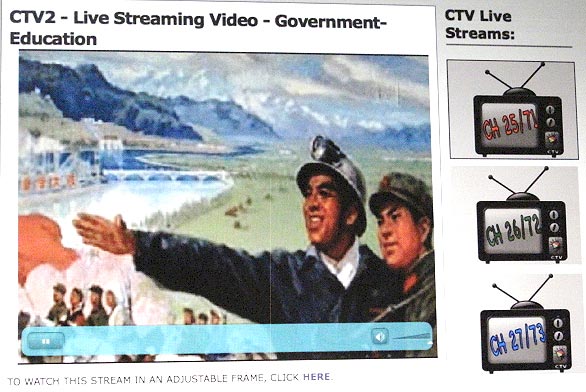 February 5 + 12, 2011
Meltdown in Tibet broadcast on Santa Cruz Community TV, comcast channel 26/72, in California, USA. Screening as the lead for 7 short films on environmental issues. Not exactly mainstream media, but community TV stations are not afraid of controversy.
screening in translated versions
Meltdown in Tibet has been translated into several languages by Tibet support groups—including Korean, Japanese, Mandarin, French, German, Italian, Czech and Polish versions. Because the English narrator speaks quite quickly, it is not advisable to translate with subtitles. The best option is to produce another language voice-over and dub that over the top of the English narrator (volume reduced), while retaining background music and sound effects. The last part of the documentary, with several interview subjects, can be left in the original English with subtitles added.
Poland, September-December 2012
Meltdown in Tibet with Polish narrator voice-over, screening in 8+ cities across Poland via Tibet support group Ratujtybet.org
BRIANCON, Les Hautes Alpes, France, July 30, 2010
French version by Claude Levenson, also chairing the post-screening debate. Event hosted by Briancon05Urgence Tibet as part of special Tibet Week, July 25 to 31
TIBET INITIATIVE DEUTSCHLAND, Germany
Holding multiple screenings of Meltdown as part of a broader environmental campaign for Tibet. The German translation of Meltdown in Tibet was shown at Greenpeace Munich, July 16, 2010; and in Hamburg on Sept 12, 2010. Multiple screening/talks by TID in 2011 including screenings in Karlsruhe, 4 Feb; Kitzingen, 22 Feb; Saale, 23 Feb; Osnabruck, 9 March; and Essen, 11 March, 2011.
NAGANO, Japan, June 19, 2010
Japanese version of Meltdown in Tibet, with guest speaker Ken Noguchi, alpinist and environmental activist. The Japanese version of Meltdown uses sub-titles throughout.
Additional screenings in Tokyo, September 5, 2010; Nagoya, October 16; Osaka, October 23; and Fukuoka, November 23.
SEOUL, Korea, May 11, 2010
Korean version screening at Duriban. Hosted by Rangzen Korea. The evening kicked off with songs by Tibetan singer Tashi. The Korean-language version of Meltdown in Tibet with Korean narrator (transferred to DVCam 64-minute tape) was played back on a DVCam projector—screening onto a large white sheet on the wall. Followed by director Q&A and beer all round.
Screening in…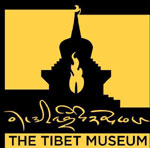 TIBET MUSEUM, Dharamsala, India:
on-going screenings as part of Tibet Awareness & Tibet Talks series
Apeejay Kolkata Literary Festival, India, January 2015
—presentation with film screening, followed by director Q&A, at launch of the book, Meltdown in Tibet
Royal Geographical Society, Hong Kong, November 18, 2014
—launch of the book, Meltdown in Tibet. presentation with film screening. Ran into some controversy during Q&A, which apparently is a good thing with the RGS.
Singapore Writers Festival, November 2014
—launch of the book, Meltdown in Tibet. Screening of long version of Meltdown in Tibet, with director Q&A following.
Also joined a panel with Barry Lopez. And met Paul Theroux, who was headlining the festival after being barred from entering Singapore for several decades due to sensitivity over his book and film Saint Jack, both banned until 2014.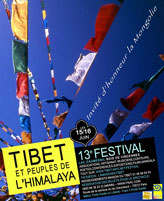 BOIS DE VINCENNES, Paris, June 15-16, 2013
Two-day Tibet and Himalaya festival organized by Tibet House in Paris. The annual festival draws thousands of visitors to relish unique Tibetan culture, art, music and dance, handicrafts and cuisine. Festival highlights included discussions on the preservation of Tibetan culture and identity, film screenings, lectures on Tibetan Buddhism, meditation and Tibetan medicine. As part of a presentation on Tibet's environment, both Meltdown in Tibet and From Nomad to Nobody were screened in short versions.
CORK, Ireland, April 24, 2013
—screening at Solidarity Bookstore
CANEJAN, France, April 5, 2013
Nos Amis de L'Himalaya staged a Tibetan night, with Meltdown in Tibet + From Nomad to Nobody screening in this town in the Bordeaux region. The soiree featured dinner prepared by a Tibetan chef.
Johor Bahru, Malaysia, Sep 16, 2012
—screening as part of Maskara Short Film Marathon, hosted by JB Writers + Readers Festival, at Bukit Timbalan in Johor Bahru. Also screened in Rumah Pena, Kuala Lumpur, 24 Sept, 2012.
TAIPEI, Taiwan, Feb 28-March 11, 2012
—Taiwan Friends of Tibet presentation: Tibet Culture Festival, with films and live performers. Screening Chinese-language versions of Meltdown in Tibet and From Nomad to Nobody.
STAMFORD, Lincolnshire, UK, Feb 26, 2012
—Special event at Stamford Arts Centre, screening Meltdown in Tibet and From Nomad to Nobody, with panel discussions on the issues raised, with Pema Yoko (SFT UK), Alison Reynolds (International Tibet Network UK), and Tash Despa (maker of Channel 4 film, Return to Tibet). The filmmaker showed up for Q&A via Skype link.
KATHMANDU, Nepal, Feb 5, 2012
—at Indigo Gallery: joint screening of Meltdown in Tibet along with Nomad to Nobody.
BODHGAYA, India, Jan 9, 2012
—at the 32nd Kalachakra, Meltdown in Tibet screened as part of a panel presentation on Tibet the Third Pole and its impact on Asia's future. Organised by the Women's Environment and Development Desk of TWA.
DURBAN, South Africa, Nov 28-Dec 9, 2011:
—From Nomad to Nobody and Meltdown in Tibet screened several times during COP17 (UN climate change conference), presented by Tibetan Women's Association and Tibet Society of South Africa. The small Tibet group worked to counteract the large Chinese presence at COP17, where Chinese delegates are prone to claiming that dam-building reduces carbon emissions, and claim that removing nomads will save grasslands.
BERLIN, Germany, Sept 9-Oct 20, 2011:
Meltdown in Tibet screening several times during the course of a special forum and exhibition organised by AedesEast, Berlin. The concept concerns architectural projects that mitigate the effects of water disasters. The theme is: Water—curse or blessing? Focus is on Asia and Australia.
PRAGUE, Czech Republic, March 7, 2011:
Meltdown in Tibet (with Czech subtitles) was the opening night film at the 5th Tibet Festival, organised by the Potala Society. Playing to a packed house at Svetozor Cinema in Prague, the documentary was paired up with A Shawl to Die For (Rita Banerji), with post-screening debate chaired by former Greenpeace program director Jan Pinos.
TRENTO, Italy, Mar 4, 2011:
screening as part of Tibetan Film Festival. Screening in Italian language.
MELBOURNE, Australia, Feb 7, 2011:
presentation by Tenzin Norbu on "Climate change on the Tibetan Plateau and its global significance". Event hosted by Australia Tibet Council. A second presentation in Sydney on Feb 11, 2011.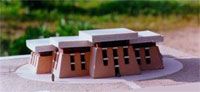 AUROVILLE, Tamil Nadu, India: Jan 1, 2011:
screening at the Tibetan Pavilion, hosted by Tibetologist and author Claude Arpi, with Q&A following.
UNIVERSITY OF DELHI, India, Dec 16, 2010:
presentation and screening by Friends of Tibet + Delhi Greens
TIBETAN YOUTH HOSTEL, Delhi, India, Dec 5, 2010
FCC SOUTH ASIA, Delhi, India: Dec 3, 2010:
lots of questions about the impact of Chinese dam-building on India.
GENEVA, Switzerland, Sept 27, 2010:
Conference presentation by Tenzin Norbu on the sidelines of the 15th session of the UN Human Rights Council. Tenzin Norbu's presentation focused on dire threats to Tibet's environment, and on the plight of Tibetan nomads being removed from the grasslands, with a screening of Meltdown in Tibet. The event was organised by the Society of Threatened People.
MUNDGOD, India, August 27-28, 2010:
Meltdown in Tibet was shown to senior high school students at Mundgod Tibetan Settlement as part of an interactive lecture series on the importance of Tibet's river system and ecology, and the impact on the countries downstream. A Tibetan translation of the film is under way.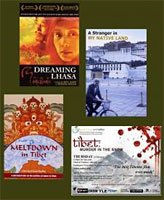 AHMEDABAD, India, July 7-10, 2010:
—series of four films on Tibet presented by the Alliance Francaise, and by the Foundation for Universal Responsibility of HHDL
WAGENINGEN UNIVERSITY, Studium Generale, the Netherlands, June 14, 2010:
—presentation by Ymke Koperberg, student of International Land and Water Management
Musée Dauphinois, Grenoble, France, May 21, 2010
—screening as part of short film festival on Tibet
BANGALORE, India, May 5-8, 2010:
at mini Tibet Film Festival hosted by TCV and Choekhorsumling Tibetan Buddhist Meditation & Study Center
UNIVERSITY OF ARKANSAS, USA, April 8, 2010:
—Presentation by OMNI Center for Peace, Justice and Ecology, with a series of five documentaries dealing with different environmental and human rights issues.
UNIVERSITY OF LEICESTER, UK, March 23, 2010:
screened in association with the People and Planet society, and Free Tibet UK
York University, Toronto, Canada, March 10, 2010
—screening as part of a special presentation on the Third Pole and climate change by Students for a Free Tibet Canada. A panel of four guest speakers covered a host of issues—climate change, glacial meltdown, agrarian problems, nomad resettlement, and mining on the Tibetan plateau.
WELLINGTON, New Zealand, March 10, 2010:
Wellington Central City Library: presentation of Meltdown with Q&A, on the anniversary of the March 10 Lhasa Uprising of 1959.
organized by Tibet Solidarity Network, Tibet Nomad Aid Trust, Amnesty International, and 350
VICTORIA, BC, Canada, March, 2010:
At the University of Victoria
hosted by SFT Canada, which plans to screen Meltdown at campuses across Canada.
PORTLAND, Oregon, USA, March 13, 2010:
hosted by the Northwest Tibetan Cultural Association
Paired up with the documentary Murder in the Snow
NEW CANAAN, Connecticut, USA, March 6, 2010:
Q&A with Sandra Ross, board member of US Tibet Committee.
Screening two films related to major environmental issues in Tibet: Meltdown in Tibet (Canada) plus Undercover in Tibet (Channel 4, UK)
BANGKOK, Thailand, February 16, 2010:
At the Foreign Correspondents Club, with Q&A following screening
ANGKOR, Cambodia, January 23, 2010:
at the Foreign Correspondents Club in Siem Reap. Open-air screening on wall next to outdoor bar, with cicadas providing additional sound effects. A short Q&A post-screening, followed by live blues band.
ORLEANS, France, March 13, 2010
Soiree Tibet: Q&A with noted Tibet and human rights authors Claude B Levenson and Jean Claude Buhrer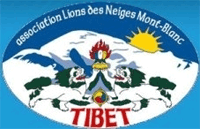 LES HOUCHES, France, February 19, 2010:
Lions des Neiges Mont Blanc, screening as part of Tibetan New Year (Losar) celebrations.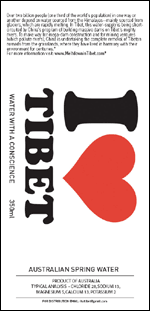 MESSAGE IN A BOTTLE
Tibetan activist Tenpa Dugdak from Australia sent this label — which he plans to put on bottled water distributed at festivals and events (click to enlarge)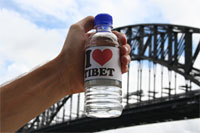 BRISBANE, Australia, January 27-31, 2010:
Festival of Tibet
Under the auspices of Australia Tibet Council.
Blue Mountains, NSW, Australia, November 20, 2009:
Screening hosted by Sakya Trinley Ling—Tibetan Buddhist dharma activities group. Meltdown in Tibet paired with The Unwinking Gaze (feature film about HH the Dalai Lama). Q&A session with environmental scientist Dr Simon Bradshaw and Tibetan activist Tenpa Dugdak.
COPENHAGEN, Denmark, December 9, 2009: 5pm
Across town from COP15—the Copenhagen Climate Change Summit:
Meltdown in Tibet + Q & A with Charlotte Matthiasen and John Isom
(presented by Tibet Film Festival and Tibet Third Pole)
Grand Teatret, Mikkel Bryggers Gade 8, 1460 Copenhagen. www.grandteatret.dk
An in-depth look at the 'meltdown' of the glaciers and permafrost on the Tibetan Plateau and the Himalayan region and its global impact, threatening the water supply for millions downstream across much of the rest of Asia.
HOSTED BY: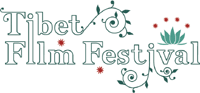 www.day-for-night.org/tibetfilmfestival
LONDON, UK, December 4, 2009: 9am-6.30pm
Cineforum — Climate Change: Mapping the Path to Ecotopia
Wallacespace, 22 Duke's Road, London WC1H 9PN
Tibet Film Festival will be hosting a series of sessions at this COP15 related climate change event in London including film screenings, a photography exhibition and a discussion panel on the theme of 'Tibet Third Pole'. One of the highlights will be Michael Buckley's film 'Meltdown in Tibet'. This presentation will be followed by panel discussion with Dr Sonali Joshi, John Isom and Matt Whitticase.

The Cineforum on 4th December 2009 is an innovative conference approach combining powerful documentary films, insights from avant-garde thought leaders and cross-disciplinary workshops. A seminal event taking place in London contributing to COP15, Cineforum will be presenting paradigm-shifting strategies and solutions for the years ahead. The Cineforum is designed to enhance understanding through embedded learning strategies and help you identify and shape your own part in co-creating a positive vision of a sustainable, fair and ecologically sound future: Ecotopia.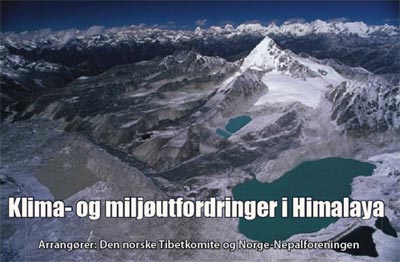 Screening in Oslo, Norway, October 5, 2009
Successful Seminar on "Climate and environmental challenges in the Himalayas" and screening of film "Meltdown in Tibet" in Oslo.
report by Øystein Alma, Voice of Tibet (8.10.2009, Oslo)
Monday 5 October, in Oslo, the Norwegian Tibet Committee and The Norway-Nepal Association invited for an open Seminar on "Climate and environmental challenges in the Himalayas".
The Seminar attracted a packed hall at the Norwegian House of Litterature in Oslo, where a number of experts were invited to speak on issues and research related to climate and environmental challenges in the Himalayas, with special focus on issues related to Tibet. The seminar was organized in connection with the upcoming International Climate Conference in Copenhagen (COP15) in December.
Among the speakers were Deputy Minister Mrs Heidi Sørensen, from the Norwegian Ministry of Environment and Mr. Halvor Dannevig of the CICERO Center of Climate Studies. The Deputy Minister started her presentation by voicing her concern for Tibet's environment and consequences of climate change for the region.
Mr. Lobsang Dhargyal, a Tibetan having lived in nomad areas of Tibet till 2007, gave a presentation on the Chinese authorities' repressive policies towards Tibetan nomads, and its social and environmental implications. "Forcing half a million nomads to slaughter and sell most of its livestock and resettling them in bleak villages, has huge social and environmental consequences", Mr. Dhargyal stated. He further stated that "it not true what the Chinese authorities say, that the nomads historic use of the grasslands dries out the soil. In fact the nomads and their animals use of the grasslands is very important to the sensitive ecology of Tibet. These policies are implemented for the Chinese to gain further control of the nomads in Tibet and to make way for mining and hydro projects."
All the speakers agreed that the Himalaya region, by many referred to as the "Third Pole", is very sensitive to global warming and climate change. The mighty rivers in Asia, most of them sourced in Tibet, are at great risk of rapid receding. Such a scenario will have enourmous consequences, not only for Tibet and the Himalayan region, but for hundreds of millions of people living further downstream.
After the presentations, and a Questions and Answer session, the documentary film "Meltdown in Tibet" was shown. This film raises disturbing questions of the "politics of water in Tibet." A trailer of the film can be viewed at: www.MeltdowninTibet.com and made a huge impact on the audience.
With the program hosts, Mr. Olav Gunnar Ballo and Mrs. Chungdak Koren of the Norwegian Tibet Committee, committing themselves to future work and focus on environmental issues related to Tibet and the Himalayan region, an engaged and disturbed audience could leave the three-hour-long Seminar.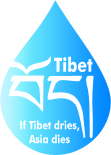 Screening at inSpiral Lounge, London (UK), August 26, 2009
hosted by SFT UK
Dance 4 Tibet is a Unity Vibes charity event in support of Students For a Free Tibet. With Tibetan food delicious traditional recipes — the inSpiral way. Documentary "Meltdown in Tibet" by Michael Buckley blows the roof off China's catastrophic environmental plans at 8pm. Dance in unity from 9pm to the eclectic grooves of DJs RISKITEK and FURIUS 23.
SFT UK has shown Meltdown at a number of campuses in the UK.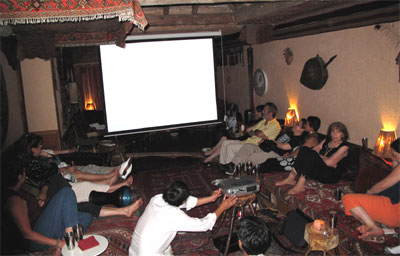 SHOWTIME
Indie screening of Meltdown in Tibet at Chai Gallery, Vancouver, on July 25th, 2009. This event was hosted by zany Vietnamese-Canadian engineer Hung Nguyen, who is deeply concerned by the impact of Chinese mega-dams on those living downstream—particularly in Vietnam's Mekong Delta. At Chai Gallery, buffet dinner was followed by Meltdown film presentation with Q&A, and continued on into the night with live music—and Hung playing Vietnamese lute. Hung is planning another indie screening of Meltdown for the Vietnamese community, to be shown at a Vietnamese pagoda.